Okay, so I want to begin this Commission Academy review by stating that it may be slightly biased.
Why?
Well, because I (the reviewer) am actually the founder of it… But I'm going to do my best to put together this review with an independent outlook, looking at both the good & bad points.
Sound fair? Let's dive in then…
What Is Commission Academy?
Commission Academy is an affiliate marketing platform that I created with the intention of helping people to get a "quick start" online.
You see, what I noticed is that when it comes to making money online people naturally want to earn as much money as possible, but they also want to begin earning it as quickly as they can.
And typically, it takes a good bit of time to begin seeing results from affiliate marketing.
So I decided to try switch things up a bit. I put together a step-by-step video course that essentially outlines what I would personally do if I happened to lose my business overnight & needed to get things going again as quickly as possible.
It outlines the exact same strategy that took me from zero to over $14,000 per month in my first 6 months of affiliate marketing & it also provides an amazing affiliate marketing opportunity bundled in with the training.
Is it perfect?
No… Absolutely not.
But I believe that if you are new to affiliate marketing, then the training I have put together inside of Commission Academy could really help you to speed up your initial getting started phase.
Plus, as I briefly mentioned above, Commission Academy also comes bundled with an amazing affiliate opportunity to enable you to begin earning commissions right away.
How Does Commission Academy Work?
Upon creating your free account at Commission Academy you're taken through what is referred to as the "Setup Wizard".
The setup wizard is a three-step process that firstly welcomes you to the platform, then explains affiliate marketing in more detail & finally helps you to launch your very first website.
Yup, that's right… In just a mere 3 steps you will have your own website online & the good news is that you can even do this without paying so much as a single cent to get started.
From there, once you have completed the initial setup wizard you will be given access to the platform & then you will be able to proceed through the "Fast-Start Training" course.
The fast-start training course inside of Commission Academy consists of 13 bitesize videos that show you step-by-step how to set up your website for success & how to begin generating commissions.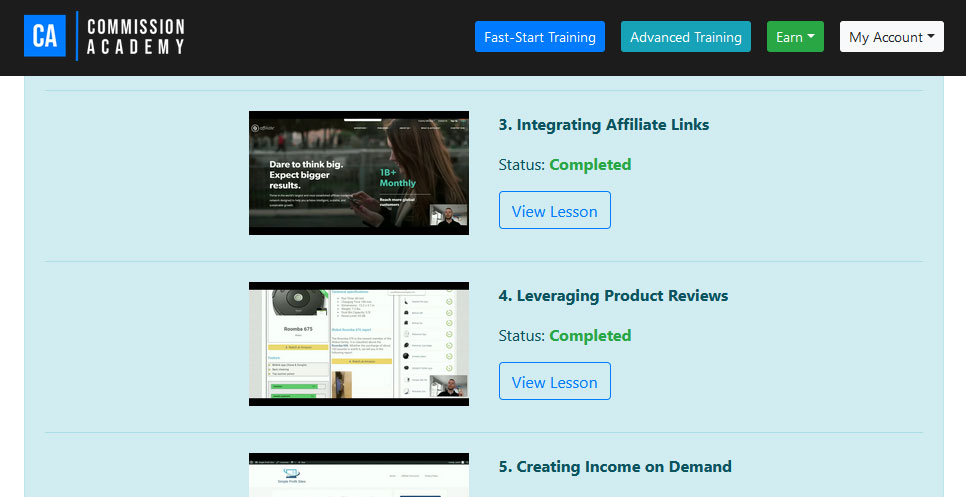 It covers things such as:
Utilising an email list to create income on demand
Leveraging a method known as "Online Content Creation"
Outsourcing your tasks to completely automate your business
And the training has been put together with the complete beginner in mind. Providing you can watch videos & follow simple step-by-step instructions I firmly believe that you will be able to find great success as a member of Commission Academy.
But as I mentioned above, I'll admit that there are some downsides. I'll mention the positives first, but then I will run you through some of the downsides of the program as well.
The Positives
The training is geared towards helping you to get started FAST
The training is designed to be "copy & paste" simple
The method is proven & is fully scaleable
There is no investment required
You get access to a very lucrative affiliate program
You get provided with access to a coach & community
The Negatives
The training is limited as it is built with a focus on getting started FAST
I have never been too great on camera, so my videos may not be perfect
How Can You Join Commission Academy?
As mentioned previously in this Commission Academy review, it doesn't cost anything to get started with Commission Academy. I have provided the training 100% free of charge.
This means that if you'd like to get started with Commission Academy & check it out for yourself, you can simply go ahead & create your free account here. There are no restrictions or limitations.
You can also learn more about it by visiting the Commission Academy website here.
Have comments or questions? Feel free to leave them below.